Sacred Games- The Ultimate Game Of Chor-Police
In the land, where the censor board doesn't exist, will blossom the art of storytelling. I started watching Sacred Games at 12'o clock in the night, half hoping that I would finish the first episode and then will get back at it at the weekend, during my leisure. When I finished the show, it was almost five in the morning and I felt kind of empty inside because there weren't any more episodes left to watch. This is what Scared Games did to me. It didn't give me a chance to say, that here the story is slacking off; so, let me take a break from it and continue some other time. It just kept pushing me and at the end, I am left with a few pointers. This is not a review in the strictest of terms, however, push through and at the end, I hope you will like it.
The Pace Of The Series
Sacred Games doesn't ebb. The story keeps moving at a pace, where your eyes are constantly glued to the screen looking forward to the drama that is unfolding in front of you. It moves around Mumbai, in time and in reality. I can't remember when was the last time someone had created a piece of work that speaks about a city so passionately and treats it as a throbbing heart rather than a place, where its protagonists move about. Mumbai/Bombay forms the pivotal point of the narrative and, although, I may face flak for saying this, Anurag Kashyap couldn't pay a better call-back to Ram Gopal Verma than this.
The treatment of the underworld is mature and strong. The series picks up nuances and works upon them, bringing the entire mafia era to a 2018 audience. This is a worthy successor with an international approach. This can and will compete with some of the best television series out there and I will be surprised if it doesn't find its takers. Also, since it has been released on Netflix, it's safe to assume that the audience that will be watching it have already had their rub with such series; for example Narcos, and they will be pleasantly surprised to see such strong storytelling right in India. Sacred Games gives you a lot of hope regarding the fact that we are finally maturing into an industry that's truly brushing shoulders with international pieces.
The Actors
Although the advertisements that are doing the rounds focus primarily on Radhika Apte, Nawazuddin Siddiqui and Saif Ali Khan, about whom I'll be talking shortly; let's take this time to acknowledge the people, who are excellent in their respective roles. I first noted Neeraj Kabi in Ship of Theseus and then Talvar, but here as a dirty cop, he truly flourishes. He bites into the meaty role and makes it his own. It is not easy to command screen presence and go neck to neck with the heavyweights, such as Nawaaz, but he does it with such panache that you can't help but take notice.
Another actor that I really enjoyed watching was Jitendra Joshi as Constable Katekar. His portrayal of a Mumbai police constable is something that will stay with the audience. The names, such as Rajshri Deshpande, Geetanjali Thapa, Girish Kulkarni, Jatin Sarna, Kubra Sait and others should be on your lookout list.
Now, let's come to the trio. Radhika Aapte fits into her role like a glove and throws a very strong presence throughout, however; I have recently watched Lust Stories as well and you can call it a severe overdose of her but I didn't quite see her bring something extraordinary to the plate. Don't get me wrong, she is amazing in her role as Anjali Mathur but as you know, you keep on expecting more from the people you love.
Now, let's come to Nawaaz. If you are watching Sacred Games keeping Gangs of Wasseypur in mind, and Nawaaz as Faizal Khan, this gangster portrayal will give you another legendary character to fall in love with and that's Ganesh Gaitonde. If anything could eclipse Faizal Khan, it's Gaitonde with his brutal ways and that devil sneer. Nawaaz is out here to create legacies that people will look back when he is 60-70 and still cheer him for.
Finally, Saif Ali Khan and oh boy, do I love him in Sacred Game as Sartaj Singh! The Nawaab is done playing it "Saif" (safe). It looks like he is hungry for good roles and he is going at it. If one has seen him in Kaalakaandi, he/she must have noted how good he has become in the second round of his acting career. But, if you see Sartaj Singh, you will say that is the same Saif, who showed what he is capable of in movies like Being Cyrus and Omkara (Langda Tyagi). He is hungry to show his mettle and it shows. He is pulling out all the tricks out of his sleeve and what you get after watching him is sheer joy and admiration. It's safe to say that this is his best role in almost a decade.
Ok now, adding to all these acting powerhouses, the next season of the show will have another fantastic actor coming on board. I am not spilling the beans on who it is.
The Director's Cut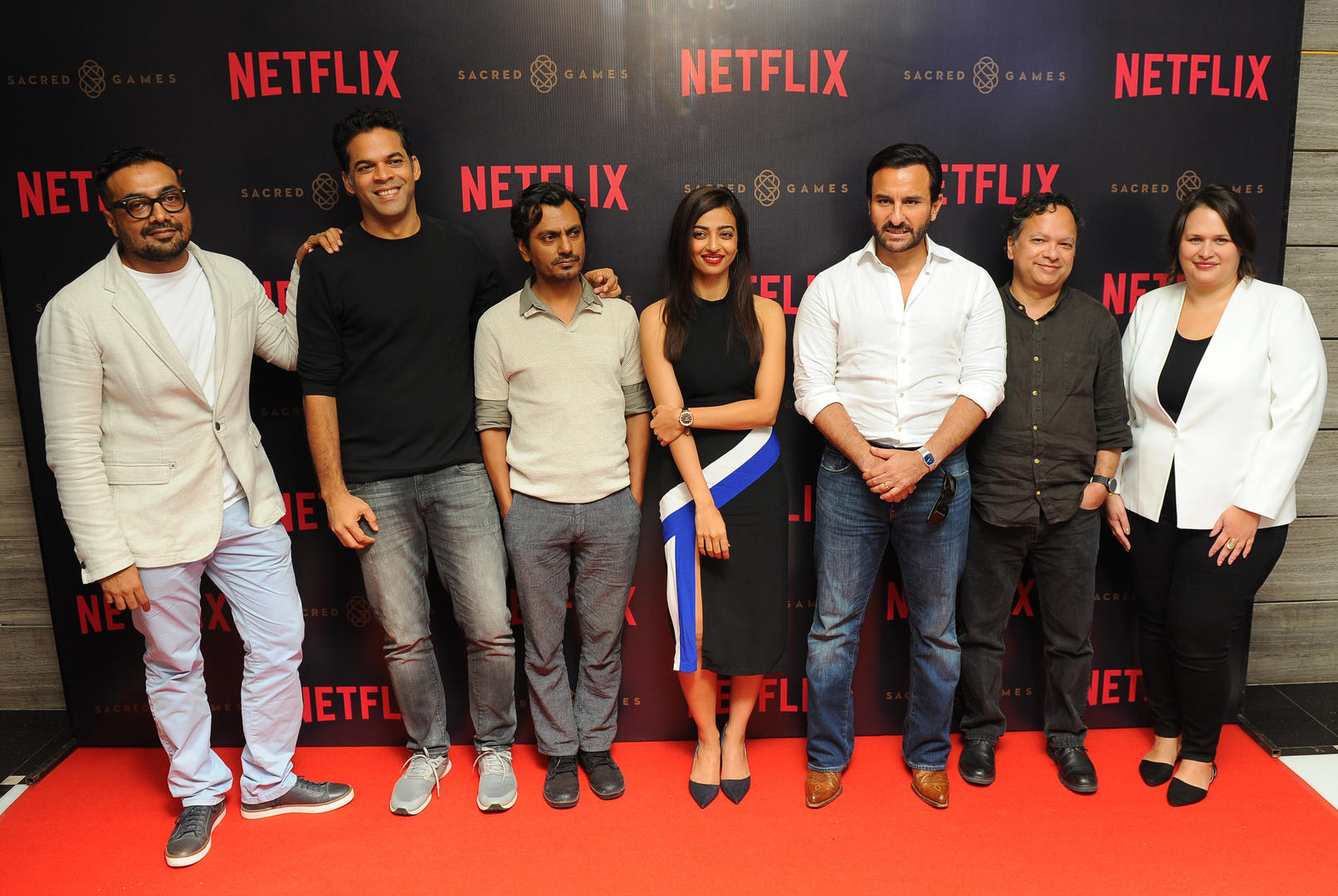 Netflix and Phantom Films need to get in bed together more often. Anurag's movies like No Smoking and Vikramaditya Motwane's films like Trapped are going to get their audience in this video streaming platform rather than in the theatrical releases. Also, the biggest thorn in making something good is the censor board. But, here in Netflix, the censor is like a fly on the wall, that can be spattered away with a swift motion, leaving room for good content. Sacred Games has strong language, nudity, eunuchs, bullets, explicit scenes, blood and none of it is out of the place. The series demands it and, therefore, it's there. If it had to go through the notorious sensor board, we all might have been left poorer for it.
Finally, there is the peak lens flare. This is a pet peeve of mine. Those, who have watched Stranger things, Star Trek or any JJ Abrahams related production, you know what I am talking about. I think this is the first time it is being used in an Indian series or a film, and it gives an amazing edge to the entire treatment of the series.
Final Thoughts
My suggestion would be to watch it with a bottle of water; some snacks ready and enough time in your hand to binge the entire eight episodes at one go. Once you are done, also Google the names of the episodes – this is a special tip; do it and the series will again get a new meaning. Pick up the nuances on how Radhika Apte aka Anjali Mathur saves the numbers on her phone, which is another that you are bound to find quite interesting. Also take some time to watch the opening scene in, at least, one of the episodes. It is visually stunning and demands a watch; keep an ear out for the background score and Alokananda Dasgupta.
Sacred Games is excellent storytelling, with amazing actors and two very strong storytellers steering you through the entire journey. This is what you have been waiting for!