Library – Definitely A Basic Need For All Children
While growing up in Calcutta back in the 90's, the library became one of our favourite corners in school. There was an aura of magic filled in those huge rooms – the sultry smell of old books, the colourful bindings, and the quietude innate to those rooms everything transformed the basic room into a wonderland of the book. And if I am considered to be a bibliophile of sorts today by my closest friends, the credit would definitely have to go to the humid libraries where I spent a considerable part of my childhood.
Now, I am not eulogizing about libraries because I'm suffering from acute nostalgia today morning, as I sip on to my tea. Rather, I feel wonderful as I think about how reading books shaped my thought process in a way that I am proud of. Alas, not all children are privileged in the same manner. Even as many children from humble backgrounds have an access to basic education and elementary schooling, not everyone is blessed to get free time to nurture their abilities by reading books.
Who would buy them books – that's a daring luxury! Yes; there are numerous libraries built in towns and cities, where you just have to pay a meagre amount – sometimes even nothing – to read and borrow books. But, thanks to the inequality steeped in many of us, stepping in a library becomes blasphemous to many young minds, who – if trained properly – can go on to be 'someone' in future.
Thinking about this particular bridge that separates young children from reading, studying and knowing better, a few minds in Punjab's Ludhiana came up with a bright plan to help children attain knowledge- Ludhiana's Library Of Hope.
Shiksha Ka Inquilab – This Is How They Love To Call The Endeavour
Established almost a year ago by the daily wage labourers in Ludhiana, the Library of Hope is like an island of knowledge and emancipation for the children of the workers. For the children, this one small room is shiksha ka inquilab, which translates to Education Revolution, a place which gives wings to all their thoughts and helps them shape and prune the same with efficiency.
This small room, the faded walls of which are adorned with posters of Maxim Gorky and Bhagat Singh, acts as the safe haven for these innocent minds, which are perhaps the most vulnerable to the cruel, outside world. There is also a board outside the library that reads, Behtar zindagi ka rasta behtar kitabon se hokar jata hai (The road to attain a better life passes through good books).
Set Up By Factory Union, The Library Received NO Government Aid
With over 500 books, the Shahid Bhagat Singh Pustakalaya – as the Library of Hope is known as – was built inside a 25 square yard room by the members of Karkhana Mazdoor Union, most of whose members work in the industrial belt of Ludhiana. Setting up this library was no less than a herculean task for these simpletons, for whom, even clean drinking water and proper toilet facilities seem like a luxury.
The members of this library comprise of children from the Lower Income Group (LIG) flats and slums in Jeevan Nagar, Dhandhari, Rajiv Gandhi Colony and Jamalpur. These are the areas with a high number of migrant workers, who find it all the more difficult to assimilate into the local crowd and provide a healthy life for their children.
Building anything constructive and ideological is always an uphill task. And for the mazdoors, the task of building the same was all the more difficult, especially when they did not have any government aid or help from any NGO. They started by collecting the monetary contribution from the workers – the amount of which varied from Rs 100 to Rs 5,000. After collecting nearly three lakhs, the union purchased LIG Flat No. 498 in December 2017 as the first step towards their goals. Then they adorned it with two fans and a rug, and slowly filled the empty areas with posters, quotes and, of course, books!
Talking to The Indian Express, Lakhwinder Singh – who is the head of the union as well as manager of the library – said, "A majority of the factory workers and daily-wage labourers who contributed have not studied beyond Class 8. But they want to inculcate the reading habit in their children. Most of them earn less than Rs 10,000 a month." Talking about their dream project – The Library of Hope – he further said, "The idea remained a dream for years because there was no space. This small flat was bought from contributions… sometimes it gets difficult to accommodate everyone but that's all we could afford. Once the flat was purchased, we started buying books, we got some through donations."
When spoken to Deepak Kumar, a labourer whose two sons are studying in Class 7 and Class 10, on whether he finds this library helpful, he said, "With our meagre salaries, it is difficult to run our homes but this had to be done. We want our children to know about the dignity of labour, instead of feeling ashamed. While writing an essay in school, they should not merely copy what is written in their books, that 'my father is a doctor or an engineer'. They should have the courage to write the truth and say 'my father is a labourer'. For that, we need to give them knowledge."
A Meagre Amount As Payment Keeps The Library Going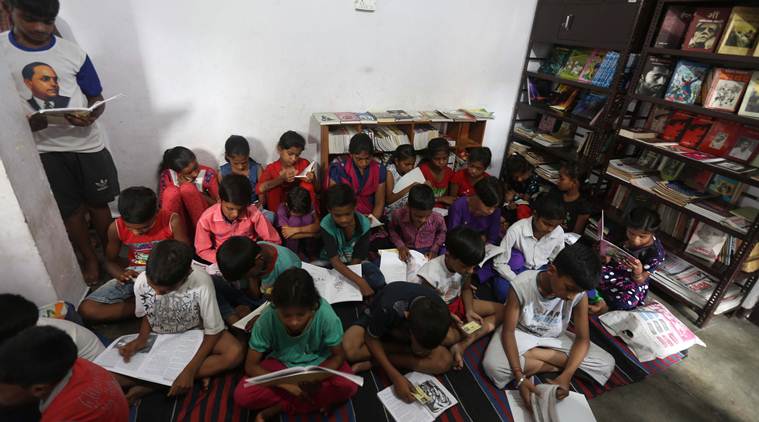 The Library of Hope does not charge an exorbitant amount from its little members. While reading is absolutely free of cost, one does need to pay a paltry sum of Rs 50 for an annual card that lets the readers take back books to their respective homes for a specific period of time – two books at a time.
Talking about the reason for taking the amount, Singh says, " The charge is to ensure that they are responsible and return the books on time. We also issue cards. For these children, a library card is a prized possession, they preserve it like a trophy."
And, are the children happy coming here? Well, come rain or earthquake, the children always make sure to spend some time in the library. Recently, they even braved crazy rains and scampered through the puddles to visit their haven of hope. Talking about the same, Akash Ram, a Class 8 student at the B R Ambedkar Public School in Jeewan Nagar, said, "We really like coming here. We don't have any story books at home. They are costly and our parents cannot afford them… my father is a barber."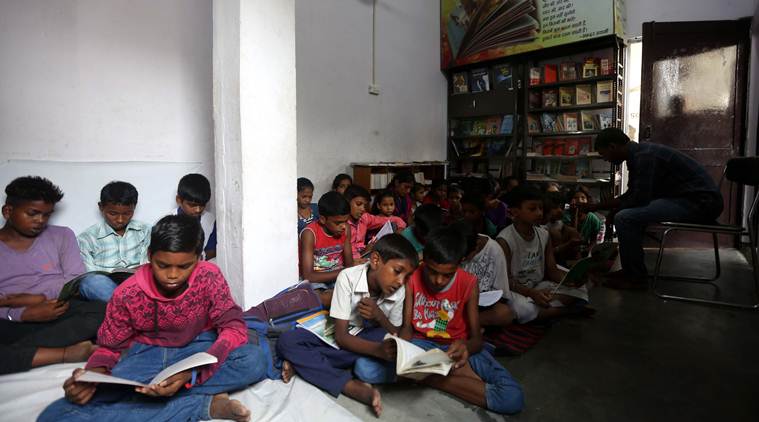 The best part is that the library organizes free tuition classes for their members as well – to help them study and achieve success in their careers.
Talking about this lesser-mentioned endeavour, Kishan Kumar – who helps Lakhwinder Singh manage and run the library – said, "Most of the parents here are so poor that they make their children drop out of school after Class V or Class VI. They start working as child labourers. We are encouraging them to come here and at least read some books. We organise a free tuition class, too, which is attended by 25-30 children every evening."
At a time, when the government-run schools are running out of funds to buy new books and the poorer sections are finding it difficult to pay for schooling after free elementary schools, the Library of Hope indeed comes as a fresh breathe of air and a ray of hope to the children of the downtrodden communities in Ludhiana. It may also be referred to as a model library, which even bigger and "better" cities can take inspiration from and try their hands at making the lives of children easier, better and more knowledgeable.