An Indian's Quantum Of Solace With Dating Apps Is The New Love Story
Dating apps have resulted in the fastest growing community in India, functioning beyond caste identity, parental approval, cultural dictates, religion etc. In the era of instant gratification, dating apps have been triumphantly waging storms in the bedrooms. BDSMdatingchat, Tinder, TrulyMadly, SeekingArrangement.com, Bumble, Scruff and OkCupid, to mention a few have subverted the norms of the colloquial ladka-ladki waale concept long back.
Millennials no more need the license of marriage in order to satiate their fetishes; dating apps are the new custodians and Indians are devoutly embracing them! The phenomena can be traced back to the 90s'. It was an era of chat rooms buzzing with strangers from across the world striving to form an alliance. India, although always had chat websites that granted a degree of anonymity to the users, like Talkomatic and Yahoo chat, never had an interface that let users share an intimacy as they do with android apps; an intimacy carried around in pockets.
Tinder vs. OkCupid: Which App Finds Love Faster?
Today, a majority of dating apps are gender-neutral, and they appeal to the mass imagination, swarms of choices arrayed at their fingertips by the means of the swipe-then-choose mechanism. Online dating sites do not merely cater to heterosexual young couples but have extended their services to middle-aged married Indians, covering diverse demographic regions and income groups.
How Queer Apps Made Room In India
Scruff, is a popular dating app among gay and bisexual men. Introduced in 2011, it was active in the country even during the years when gay sex was as a criminal offence. Scruff is pitched towards dissipating the stigma surrounding queer men dating or even accepting their sexuality on a virtual platform.
Dating Application Review: Scruff
India has witnessed a long journey of matchmaking apps since the first introduction of Shaadi.com in 1996. However, Scruff and other such LGBTQ dating apps were a breakthrough. Queer people were given a space of their own albeit virtually, a community expressing themselves with texts, without the horror of extortions and hassles, few of the predictable outcomes of a homophobic society.
"A pre-defined space to socialise is always preferred as it allows for a level of anonymity and acceptance," film-maker and a queer rights activist, Sridhar Rangayan, on Scruff.
Other gay chat interfaces mushroomed, apart from lesser renowned magazines (Pink Pages) and closed room talk sessions dealing with LGBTQ issues, each initiative sustaining the other.
An App For Sugar Babes Lifestyle?
The eccentric SeekingArrangement.com, a Sugar Daddy app has bigger fish to fry. Young Indians are finding materialistic pleasure as they liaise with Sugar Daddies or Mummies on this app. In India alone, Seeking.Arrangement.com has a huge market, with some of the most affluent Sugar Daddy profiles ranging from 70 lakhs to 70 crores net worth. To say that sugar babies are reaping all the benefits would be somewhat misleading since the arrangement ensures that none of the two parties is left unsatisfied.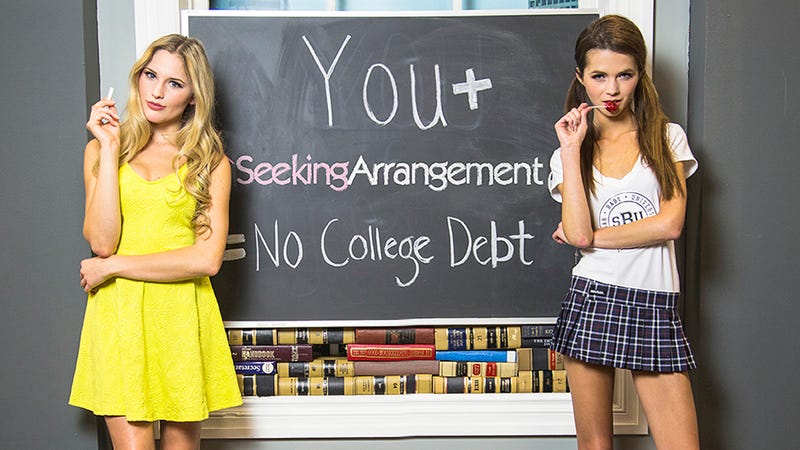 This "sugar" relationship is customized for users who are on the lookout for a brief fling, provided no strings are attached. If you can make a good match, you might be the one holidaying in the UK on the expense of your Sugar half; the younger generation is more inclined towards keeping a Playboy Bunny arrangement to fulfil the desire of leading a luxurious (tax-free) life or to pay tuition fees.
Gleeden- The Marriage Therapist
While some dating apps provide a respite from the daily grind, others simply execute the role of an affordable marriage counsellor. For the Gleeden app, India is slowly becoming one of its potential markets, with a healthy amount of female married Indians registered with it. The app is an oasis for couples who have been actively using it as a coping mechanism to deal with a failed marriage, they are readily taking the plunge with Gleeden! One of the distinguishable features of this app is that it toys with the very foundation of an ideal Indian marriage- loyalty.
However, it is not mandatory for sex to be on the palate, Gleeden has many users who simply create fake accounts in order to have a pillow talk with strangers. Users have developed a serious addiction simply out of the guilty pleasure they enjoy by cheating on their spouses, while the rest opt for casual dating and adultery over divorce.
"In India, we had natural subscriptions without any sort of marketing or advertising." Solene Paillet, head of communications at Gleeden.
GLEEDEN Pub 2017 - Secouez, déconnectez
It is not hyperbolic to conclude that dating apps have long done away with the fences society had set up for the virtuous and vicious. Apps have become an indispensable ammunition and Indians are getting their hands on to attain a sense of exhilaration, validation, coupled with the feeling of being desired by other people. Introverted people with social anxiety can be irked by the process these apps work- via photos, messages and bios, while for some others the same can act as a major turn on!
A review of Gleeden affirms that its users are not merely limited to a certain stratum of society, but includes people belonging from different class and backgrounds from entrepreneurs, corporate giants, to middle-class house-wives, basically who can afford to pay the nominal charges. The sheer amalgamation of people gathering on a chat interface is implicit of how Indians are steadily denouncing age-old notions pertinent to dating, a prospective partner, or celibacy, and marriage. The change is a dynamic process, constantly moulding itself into different shapes and a threat to the norms laid down by our predecessors.
A Finicky Indian's Saving Grace- Dating Apps
Dating apps are a relief from sites like Shaadi.com or Elite Matrimony. They have restricted usage, inaccessible by a certain class of people, and it is not yet commercially viable for many. Dating apps are at loggerheads with these, being easy-going, socially less acceptable (is still hushed about) and pocket-friendly for anybody with an android phone.
In India, Tinder, BDSM dating, ROMEO, Gleeden have furthered Indians' fancy of digging into non-conforming relationships, or coming in terms with sexual orientation, experimenting with sexual preferences, trying BDSM and flings- a respite for centuries' ardour hitherto suppressed by moral polices.
Their meteoric popularity over the years should be partly attributed to the fact that they fit into the gaps and crevices of a society disoriented by slut-shaming, homophobia, sex rackets, and commitment issues.  Like moths to a fire, the Indian market has maintained the steady bloom of dating apps, an impressive alternative to the tantrums and humiliations of finding the "one" through physical dating, hint: What's Your Raashee?
The Trickster For Good Or Bad
Not that these apps are any safe haven for the frisky lot, if you scroll through Quora, graphical descriptions of the ugly reality of virtual dating sites are written at length. Yet, the percentage of Indians seeking acceptance through the virtual corridor is alarming. Online dating requires a suspension of disbelief to go that extra mile.
Around 6 million Indian (single) users are registered on one or multiple dating apps as confirmed by livemint. Metropolitan cities like Delhi NCR, Kolkata and Hyderabad have proved fertile for Tinder, aimed towards both homosexual and heterosexual communities, with around 7.5 million swipes daily in 2015. Grindr, another dating app for LGBTQ community, has over 69,000 active users on a monthly basis; it lets users identify their nearest match based on location.
Infidelity, homosexuality, or sexual liberation had never received an easy acceptance in India, however, in 2018, the data proved otherwise.  "Dating", still a taboo in small towns, had romantic connotations attached to it previously. Such parochial implications surrounding dating are being trimmed meticulously to fit into the western concept of app culture.