A Deadly Honey Trap
A lot of young men and women spend a substantial amount of time trying to find the "right partner" on popular dating sites such as Tinder, Happn, and others. One of these people was Dushyant Sharma. Little did he know that his Tinder date would be the end of him. On the night of May 2nd, 2018, Dushyant went missing after going on a date with Priya Seth, a woman he had met on Tinder. His parents, worried over their missing son, took the help of the police. Around 10 pm the same night, Dushyant's father, Rameshwar Prasad Sharma, received a phone call from Dushyant's phone and a desperate Dushyant pleaded his father to transfer ten lacs to his kidnappers' account, otherwise, they would kill him. A moment later, Priya Seth grabbed his phone and abused his father and threatened to kill his son if he did not deposit the money to her account immediately.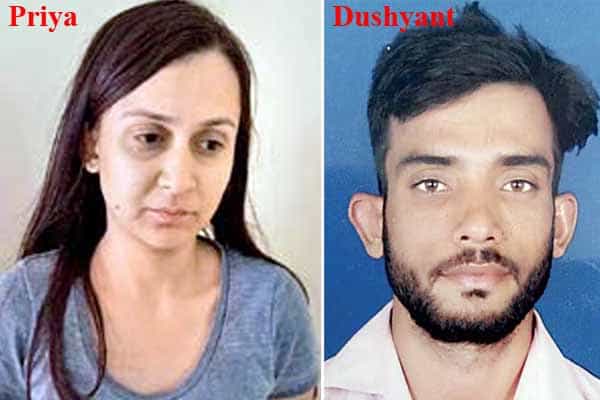 The man pleaded for mercy but the heartless Priya Seth began to swear at him unabashedly. Eventually, he broke his fixed deposit of two to three lacs and transferred the money. Soon after that, Dushyant's phone was switched off.
On May 4th, 2018 Dushyant Sharma was found brutally murdered. His dead body was stuffed in a suitcase and dumped in a village close to Jaipur by the murderers.
Priya Seth – The Tinder Killer
Priya Seth met Dushyant on Tinder. Claiming to be very rich, Dushyant wooed Priya. But she had other plans. She had been living with Dikshant, one of the three murderers and he had a debt of 21 lacs. Thinking of how to clear the debt, Priya Seth and Dikshant made a plan to kidnap someone, ask for a ransom and eventually kill him.
Fate had cruel plans for Dushyant when he lied to Priya Seth regarding his affluence, claiming that he was from a rich background. The murder plan, that had already been made much before the arrival of Dushyant, was to be used on him. After Priya had met with Dushyant, they had kidnapped him only to realize that was not what he claimed to be.
According to a recorded statement by Priya Seth, the murderers, Priya Seth, Dikshant, and Lakshya, made multiple attempts to kill Dushyant. First, Dikshant tried to strangle Dushyant but he had survived. Lakshya then tried to smother him with a pillow but Dushyant had survived that too. The final kill was made when Lakshya asked Priya for a knife and slit his throat.
Priya Seth's accomplices, Dikshant and Lakshya are far younger than her. Dikshant had met her on Tinder and they developed an emotional connection. Soon, Dikshant shifted to Priya's apartment thinking that she was a normal person with a normal job as she had claimed to work at a travel agency named Vasu Holidays. Upon finding out her true nature, Dikshant had tried to leave her but could not as he couldn't find an opportunity.
Dikshant strongly stands by his statement that Priya was the one who came up with the murder plan and had even committed the act herself.
Misusing Gender Privilege
Digging deeper into this notorious woman's life, it has been found that Priya Seth had committed several crimes before. But she had been bailed out every time as she was a "woman". She ran a fraudulent escort service site where she would dupe her clients by promising them service but would take their money and run away from them.
Using her twisted sense of justice, she had redefined her extortionist powers as an act of social welfare by claiming to steal money from clients who would leave their wives and partners at home to claim the service of Priya Seth and her escort services.
Earlier this year, Priya Seth's ex-boyfriend, Gurujar Singh, had registered a complaint on her claiming that she would threaten him with a case of false-rape if he did not meet her demands. She demanded 10 lac rupees and if not met, she would blackmail him saying she was pregnant and would dump the baby on him.
Upon investigations, the police had found that Priya Seth had threatened to hurt him and his family.
The Investigation officer had to produce several pieces of evidence in front of the Judge to obtain police custody of Priya Seth, case despite her previous criminal record.
The case has finally led to the imprisonment of the three accused.
Are The Laws On Women Safety Lopsided?
As our country wakes up to a new story of women's defamation of their dignity almost every day, it is quite hard to believe a story where a woman is at downright fault. Due to this, a lot of problems arise as the police and the judicial system find it hard to believe that the girl or the woman was wrong. The laws have been shaped in a way that protects a woman against even a minor act of harassment.
It must be noted that Priya Seth was granted bail just a week after being arrested on the charges of false rape accusation and blackmail. The matter tends to get a lot more complicated as the accused is a woman.
When such incidents surface to mainstream media, we must question whether these laws that have been implemented to protect the women of our country are lopsided and quite extreme?
One often tends to forget that male sexual harassment and mental abuse exists in the wake of the cases of rape and female sexual harassment.
A progressive and eye-opening campaign such as the #MeToo campaign has garnered a lot of one-sided support toward women. The laws lack a deterrent to punish the woman if she files a false rape case.
As we move closer to creating a just society, we must ensure that the laws that safeguard women won't be misused.