The Family Bonding Ritual Called Matrimony Site Searching
Because It's Sunday Basically
So the thing is, I have this way of checking out profiles on matrimony sites which is equal parts amazing and baffling to someone alien to the concept of 'Match Making Online'. Nope, no one is talking about Tinder or Bumble here. We have an upgraded, highly progressive platform of finding a suitable suitor for marriage purposes. Matrimonial Sites. Supposedly they resolve all your problems.
A Dad's competitive anxiety to get his daughter married, a mom's anticipation to finally wear that pochampalli saree that she'd bought a decade ago, a random Aunty's stand-up material for the next few years and an economically humbled caterer's paneer gravy dreams. So you see, a girl's marriage becomes a socio-political-economical-metaphysical-celestial (even the god's go ecstatic because of every marriage apparently) decision. I know I am drifting off from the topic.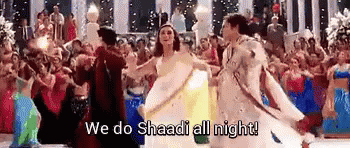 Obviously, I am not here to rant as to how I will be marinated in gaudy makeup for a couple of days before, and filled with acidity on the day of my marriage. Rather, my rant starts a few months before I shall look at a non-existent star in the polluted midnight sky. The point of discussion is the months I will spend in scrolling through prospective suitors on matrimonial sites. Which is what is happening now. You see, after some random outings, now scrolling through matrimonial profiles has become a familial weekend ritual.
Yeah, it's a family bonding activity. Don't get me wrong. It is actually fun until it is just fun. See, I like spending time with my family and seeing the twinkle in their eyes when we bond over something and have something to talk and laugh about.
It's A Cup Of Tea And A Lot Of Matrimony Promises
These moments are rare and random, and so I cherish them. As I said, until it is fun. Till it is us just checking out the software guy who keeps hopping jobs every six months, or a doctor who's resume is filled with unexplainable abbreviations of his academic achievements. We laugh at them, mock them, come up with our ways of rejecting them, whilst enjoying our Sunday evening snacks and a cup of simmering chai (I'll hit anyone who says it is Chaitea! No seriously don't do that). So then the nice little bonding activity throws up sometimes some interesting prospects.
This guy who is teaching at a university, who fits the bill in terms of age, caste and financial bearings or a Naval officer who would seemingly wash away all my sins and sail with me to new horizons. The inciting incident, as they say, comes when my folks start shortlisting these profiles. Things, my friend, are turning serious now. And that's when I start to realise that the snacks are too undercooked, and the chai is just too hot for the summer outside.
Inside my mind, I am now put into a gladiator arena, fighting out those chained tigers and crazed up kings. Now I need to wield my sword and reject them. Why? Arey listen no. Have thoda patience.
My Instincts Of Swishing My Sword Around Across Any Prospect
One photo makes the gladiator win the challenger combat. Smooth no? You may think my Sunday is done and I can go out in peace and have a Willy Wonka at CreamStone. But no. The combat has only started. There are at least five more potential suitors in the wishlist. And my folks, every Sunday, make it as though it were the last Sunday to pick a suitor from the wishlist, to buy now, apply coupon code and process him out.
Hope, you see, is a dangerous deterrent. So the evening chai will soon be replaced by brinjal curry and tomato dal at night, and my dad after having his evening bath will come with replenished energy to find a suitor. He'll comfily wear his polo t-shirt (because it's Sunday and he needs to look casual, but not like too casual, more like purposefully casual) and off white lungi, and sit on the laptop again, with his reading glasses on. So amongst the smells of subtle spices and sizzling brinjals being fried by mom in ample amounts of Sundrop sunflower oil, which she'll later use to fry some fries hopefully. Coming to the Matrimony PUBG, I and my Dad will play now a half an hour before dinner is served.
So The Problem Is There Is No Problem
See, my thing is, it's not that I don't want to get married or something. I do want to get married, I mean of course dude. Who doesn't like getting married, toh but, the thing is I need to do as how I want it. It like totally freaks me out, ok? When I have to pick someone who I don't know. Matlab Kuch bhi. My question, how will I know if someone is right.
This is a guessing game or what? Having said that, I shall confuse you further now. I don't really have anyone in my life who I want to bring home and say ki I want to marry this guy. And many of the guys I have met in the recent times are all super weird dude. Yes, see I know I like some aspects of people, but not in totality. And I don't see an accumulation of the aspects in like anyone particularly. I know it's super contradicting, but I'm like chuck it.
How To Take A LifeLong Decision In Two Minutes?
Again coming back to the point, I do want to get married. But it is something else only when I have to pick randomly. Even for the worth of my dad's polo T-shirt, or my mom's pochampalli saree, I just don't like taking that decision. Ok, let me tell you an example. It's like you go to a multi-cuisine restaurant, and you are handed an all-comprehensive menu card. Now, you like something in the continental, and one another in Chinese, and one another in Italian, and you also feel like you could make your day with just a double-decker burger. So how do you choose? One way people make these decisions is to keep a ticking clock timeline on it. Like they have to take a decision in the next two minutes.
Let's say I use that method and pick Chinese because you know, it's well doughed and prepared, it's something I already know, and there's not much that can go wrong with Chinese. So the waiter brings you a plate of Chinese noodles, which look delicious. And then, once you have the first fork swivel, you see someone order some Pasta, which looks super as well, and the people who have ordered it seem genuinely very happy with the order. Now, apply this scenario to my matrimony slash PubG situation. Makes sense? No. I don't know what you understood, but I'm feeling hungry now. And thus, I'll go through Swiggy for the next hour.
Now to complete this rant. So my dinner is served, as my dad who is asked me enough times to check out the portfolios, and I've claimed to be super busy, now I got to discuss and enunciate my thoughts. So the setup shifts to the dinner table. With rice and brinjal burry, come along the details of portfolios that dad has found proactively. So he then presents his research, as I am trying to prepare a thesis in my mind as to why my forehead is turning so dry in summer.
When Daddy Dearest Finds An Old Way Out
So he will go on about why the guy is the 'man of the match' today. Incidentally, Dad will have a mutual friend with the guy's dad somewhere, and that validates him as someone greater than any other suitor I've checked out through the day. Because, my dad's friends go through a rigorous selection process including one JAM session, two Group Discussions and one HR round, before becoming his friends. Anyway, I listen to his discovery of India. And Mom is still pissed as to why mother's control their boys, and don't give them enough space to become men.
And from there she goes to a tangent where she blames my great grandfather's third cousin's second child to have misbehaved with my third-degree uncle's fourth daughter's (who by the way recently got married. Thank you for the additional pressure sister!). Amongst all this, what do I do? Well, I am simple. I am a woman of the moment. I just survive the day. We'll sit again next Sunday to see a fresh set of matches. Because, over the week, all these potentials will be shunned, owing to their backgrounds, or age or their mere existence. See, I guess that's how life is, till it isn't. And no my mom didn't fry those fries. I'll just stick to the curry. Sometimes it's that simple.