The Earth Is A Wonderful Place To Live In
The Earth is considered to be the gem of all planets in the solar system. It is the innate capability of the earth to nourish and nurture living beings, that has made this relatively smaller planet the king of them all. However, this earth, which is replete with natural resources and resplendent beauty, is sadly manhandled. It is manhandled by us mortals, who tend to take everything for granted. Scientists and the leaders of the world are always seeking newer ways to make the earth more sustainable Even India is devising newer ways to tackle the issue of plastic population, which is by far one of the most grievous issues faced by us. On this World Environment Day, the leaders of our country vouched for a plastic-free India, banning single-use plastics in many states. However, considering the population of India, it is indeed difficult to hold this ban for long. But, thanks to some people and their initiatives, this ban has been taken care of beautifully. One such person, an unrecognized hero is Gurugram resident Sameera Satija.
Sameera Satija's Unique Plan To Curb Plastic Usage
A champion of efficient waste management, Sameera Satija was perturbed by how plastic was unrecognizably used in different parts of even metropolitan cities. One of the foremost usage of single-use plastic comprised of using them as utensils, which sadly due to its single-used nature was considered as "hygienic". On the other hand, stainless steel utensils were costlier. So, Sameera devised an ingenious plan – she set up a "crockery bank", which would lend steel utensils for various events and functions sans charging a single penny.
This selfless act struck her mind one fine day when she envisaged good samaritans serving meetha paani or sweet milk or water to passers-by at a Chabeel (a temporary location put up by Sikhs from a nearby Gurdwara to serve water to the thirsty) to replenish them from the scorching summer heat. The act was helpful and absolutely selfless. However, she was saddened by the heaps of disposed of plastic glasses that the selfless act went on to create. It was then that she hatched upon the idea of opening a "crockery bank", which could selflessly help such events and facilities to act without accumulating any irrecoverable wastage.
Sameera Satija Implemented Her Plan By Investing Rs 10,000
Gurugram Lady Opens 'Crockery Bank' for Steel Utensils | Crockery Bank
After hitting on with the idea of setting up a crockery bank, Sameera did not stop. She went right ahead and talked with numerous plastic glass manufacturing agencies to learn more about it. She was simply left aghast to know that the manufacturing of three disposable glasses requires one glass of water in this water-scarce country, and the output, in turn, is dumped into the trash bin after a single use.
Thereafter, she thought no more and shelled Rs 10,000 from her own pocket to set up her initiative. She started her own bank with 100 plates, 100 glasses and 75 quarter plates. She would mainly cater to the needs of these water drive charity organizations, and within a short span of time, her bank registered a mammoth stock of over 400 utensils.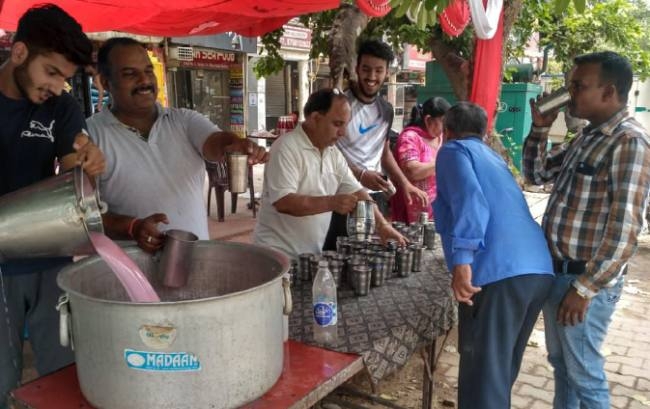 Talking to The Better India, Sameera said, "I started distributing the steel crockery among three such organisations for their water charity drive. They were so impressed with the idea, that they returned the glasses after use and donated 10 more glasses to expand the bank. It was heartwarming."
Sameera is now urging other cities to replicate her initiative so that the common citizens can curb plastic waste to a great extent. Many of her well-wishers have also reached out to her with monetary support, which caused her bank to expand more.
How Can A Person Avail Crockery From Sameera's Bank?
Sameera took help of Facebook to reach out to millions with her initiative. She created a Facebook page, with the help of her friend, Dr Aarushi, named Crockery For Everyone. So, whenever a person has to hold any mass event, like a Chabeel or a Bhandara, they can get in touch with Sameera through this FB page. Sameera and her team will respond back to let you know about the nitty-gritty.
However, in order to avail their crockery, you have to get a written letter from an authorized body, like the ward councillor of the locality or the Resident Welfare Association functionaries to prove your requirement. However, if this is not an option to some, Crockery Bank requires two of the organizational members' photo ID and address proofs. That's it. She has purportedly kept the rules relaxed to help as many as possible.
Sameera Satija's message to The Better India before ending her interview was the most enlightening one. "Whenever we take up any activity even if it is charity driven, let us also look at how much waste it generates. Disposable plastic cutlery is choking our landfills, adding filth to our roads and killing our water bodies. It doesn't take much to make a simple environmental-friendly switch. I know I cannot reach everyone who wants to be a part of this change, and so I am urging more and more people to replicate this model in their own societies," said she.
Sameera also conducts free workshops on home composting and waste management. You can reach out to her here.
Even India-Based Airlines Are Ushering A World Sans Plastic
If you are a frequent flyer, you would know the massive amount of plastic waste generated by our aviation industry. However, considering it to be inevitable, the aviation industry has been exempted from the plastic ban. But, thankfully, our desi airlines are ushering a grand change in the society by cautiously taking steps forward for a greener tomorrow.
Some India-based airlines have come up with the ingenious idea of using biodegradable cutlery and paper straws to cut down on the excessive plastic waste. Some of these airlines include Vistara, Jet Airways and the budget airlines GoAir.
Talking to Times of India, GoAir spokesperson added, "We now serve food and beverages that do not require the use of plastic cutlery. All banned plastic items have been removed from our aircraft. We are working towards extending this initiative countrywide."
Reportedly, the flag carrier airline of India, Indian Airlines is also switching from plastic to bone china cups in all economic class of domestic flights, except ones which are operated by ATR aircraft.