Why This Indie Musician Is The New Heartthrob Of India
If you are a music junkie and have not heard or come across Cold/Mess or Tum Jab Paas or at least Dil Beparwah, you, my friend, are living under a rock! Prateek Kuhad with his addictive singles is taking the internet by storm.
Hailing from Jaipur, Prateek moved to New York for his graduation and eventually moved back to India to pursue a career in music. He released his first album in 2013 and since then, there has been no stopping him. He's been consistently putting out music and performing in shows since 2015.
Prateek started his Bollywood journey in 2016. He wrote and sang a song, Kho Gaye Hum Kaha in Baar Baar Dekho. His latest work was for Karwaan where he wrote, composed and sang two songs; Saasein, Kadam.
Prateek Kuhad - Tune Kaha | Official Music Video
Slow And Subtle
The kind of subtlety his videos possess is so pleasing that it gets you addicted. His guitar skills are the most underrated and the music is so subtle and soulful. Thankfully it's such a relief from all the "heart thumping" and not so soothing sounds of the current Bollywood music.
There's a touch of folk music in a few of his songs. Though he produced songs with electronic music here and there, his use of piano and guitar is what makes a mark. His work in Dil Beparwah and his first single Raat Raazi is impeccable. We don't need to mention what a hit his last album Cold/Mess was.
Prateek Kuhad - cold/mess
Lyrics That Make You Fall In Love With Love
The lyrics need a special mention. They are so relatable, particularly to the millennials and Gen Z. They have a poetic touch. It feels like all that you want to express to your loved ones is being expressed through his music.
His albums don't have a weird mix of English words in them. Few are purely in Hindi, maintaining authenticity. Although a lot of lyricists try and include more than one language to sound more colloquial and relatable, there's something that seems amiss. Prateek Kuhad sticks to the language in which he is writing, throughout the song.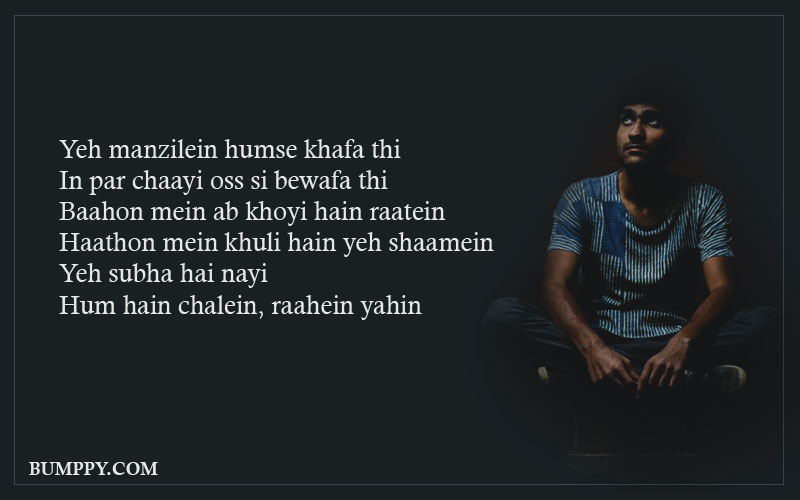 That's somehow comforting and it's like he is slowly taking you into his head and showing you what's happening. How he's feeling without any intervention.
Who doesn't want to know how one feels? Particularly about love, pain, conflict and life as a whole. Prateek does a splendid job in portraying a beautiful world with his lyrics, which not many lyricists can do in this day and age.
Stories By Colors And Objects
Another incredible thing about his work -- The video production. Again, everything is so subtle and soulful. There's a different kind of palette for each of his songs. The colours, shots, even the costumes worn by the performers tell a story. For example, His Cold/Mess has a very distinct colour palette that kind of makes you feel what they are going through, literally. Tum Jab Paas takes you to back your classroom in the school and actually puts your crush in front of your eyes. What's better than relating to a song and being reminded of your own story? There's a very distinct vibe to his appearances and stage presence. Calm and conscious. That's what you feel.
Now, let's just take a moment to appreciate and feel how impeccable he sounds. Take a pause for two seconds, go find your phone, play one of his songs (preferably Kho Gaye Hum Kaha for I think he sounds best in that song) and just close your eyes and listen to him.
Kho Gaye Hum Kahan -Full Video |Baar Baar Dekho | Sidharth Malhotra, Katrina K| Jasleen R, Prateek K
Amazing, isn't it?
In conclusion, Prateek Kuhad is the flagbearer of Indie music for Gen Z. He is bringing out some amazing music which I think music lovers or not, basically everyone should check out at least once.
His last album was cold/mess and we can't wait to hear him more! Here are a few of our favourites that you should totally check out!
Dil Beparwah, Cold/Mess, Tum Jab Paas, Kadam, Tune Kaha…
Actually, just listen to all of his songs, they are dope!