The Virus Which Is Wreaking Havoc In South India
At least 10 people succumbed to the deadly Nipah virus in Kozhikode region of Kerala. Two people, who were tested positive due to the virus outbreak, are critically ill.  A bunch of 40 people were put into quarantine following the deaths due to the outbreak.
Around 60 samples of blood and body fluids, of the suspected cases, have been sent to the National Institute of Virology, for testing and confirmation.
A health emergency has been declared by the government in Kozhikode, to control the spread of the infection. Health camps and a control room have been set up for assistance and tackling of the situation.
It is worrisome that the virus has no vaccine available, and it can be transmitted to humans from animals.
A nurse, Lini Puthussery, who died attending to victims, is being hailed a hero for her service.
What Is Nipah Virus?
Nipah Virus is an infectious disease which first broke out in Malaysia and Singapore in 1998 and 1999. It first appeared in domestic pigs, in Malaysia, which are said to have picked up the virus upon contact with the virus hosting bats. The virus has also been found among several species of domestic animals.
Nipah is known to affect humans as well.
The Nipah Virus encephalitis belongs to the RNA or Ribonucleic acid virus of the family Paramyxoviridae, genus Henipavirus, and is closely related to Hendra virus.
The virus has a mortality rate of 70% and is very tricky to diagnose. Symptoms include fever, headache and vomiting, which can be attributed to several factors and are not conclusive. The virus can also cause drowsiness, disorientation, mental confusion, coma, and potentially death.
The World Health Organization has identified the Nipah virus as a potential major outbreak and has included it in the top of the '10 priority diseases' list.
How Does It Spread?
Fruit bats are supposedly the primary hosts of the virus. The virus is present in the urine and potentially the faeces of the bat. Saliva and birthing fluids may contain the virus as well. Any contact with the above may result in spreading and contamination.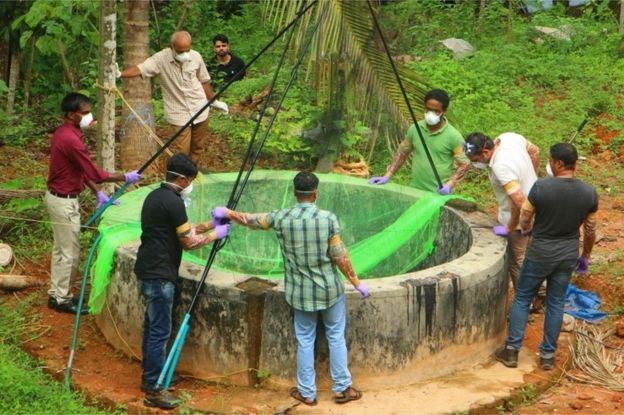 Government health workers claimed they had found dead bats in the well of a house in Kozhikode. This could have been a potential site of contamination. The well has since been sealed using fluorescent nets.
Preventive Measures To Be Taken
The following steps can be taken to prevent the virus from spreading and causing contamination:
1. Infected people, those exposed to the virus should be kept in quarantine.
2. Mugs, buckets, utensils and clothes should be maintained hygienically.
3. Farm animals and humans alike should be prevented from eating raw fruit, fruit fallen on the ground, as it may be contaminated.
4. Consumption of date palm sap/toddy should be avoided.
5. Physical barriers can be put in place in order to prevent bats from accessing and contaminating palm sap.
6. Medical officials looking after the patients should wash their hands, use a gown, cap mask and should wear gloves.
7. For laboratory personnel, BSL 2 facilities should be provided.
8. Wire screens can help prevent the contact between pigs and bats.
9. Early recognition of infected pigs can help protect other animals and humans.