Glories Of Studio Paraphernalia Find A Suitable Place In Sheth's World
Ketaki Sheth started off her journey during the late 1980s, slung over her shoulder a camera, taking pictures of Bombay under the tutelage of Raghubir Singh, known for his works like Banaras: Sacred City of India. Ketaki Sheth, following the footsteps of her master, began to treasure images of monotonous daily life within her grandiose frames, mostly in black and white. Her flamboyant yet honest portrayal of Bombay lives was later carefully compiled and printed in her magnum opus Bombay Mix-- a repertoire of street photographs by her.
Later she travelled to the Sidi villages, populated by ethnic minorities in India, and published a series of photographs in A Certain Grace: The Sidi: Indians of African Descent; each and every photo strikes out for its subtle beauty, under the candour of her exposure to the lives of Sidi women- their culture and identity formation.
The Journey of a Photograph | Ketaki Sheth | TEDxMAIS
Her extensive representation of the Sidi culture gave birth to curiosity amongst the popular mass. The interest was mainly in Sidi's lineage and representation in literature so far, the question of the African diaspora and the curious intermingling of Indian history into the making of the culture.
Sheth with her works has, therefore, chronicled society and culture, capturing the rhythm and pulse of her subjects, making them come alive through her lens. In my personal opinion, her involvement with photography has attempted to preserve an invaluable chunk of history and heritage, in the ebb and flow of daily our lives.
A Tale Incredibly Close To Heart
Recently, she hosted an exhibition of her photographs squarely based on the opulence of fast-disappearing photo studios in India, which have played a crucial role in Indian middle-class lives since 1840. Through Sheth's lens, we see the sad adieu of one of the flourishing and oldest commercial enterprises in the Indian market- photo studios, the colourful documenters of the varying pattern and attitudes of Indian men and women.
This business dominated the Indian market during the 1960's and 80's, with some really talented photographers or "kamera man". They used to perform somewhat tedious rituals for the sake of the quality of work. From capturing the narrative of a family history or simplicity of passport photos or the bubbling jubilation of a newly married couple- all which sought a safe haven in those studios.
Her awareness of social culture and documentation of the same thus gains an altogether different dimension with her latest exhibition, a final recall before studios dissipate altogether.
"I still take 45 minutes to take a portrait and set up as many as 12 lights to click one… Now, we are planning to make the studio into a studio gallery to showcase photographs."- a former owner of the photo studio.
Life Inside These Studios
These studies can be considered as storytellers, narrating the austerity of a veteran couple, or guileless sibling relationship- Indian studios had portrayed it all. Sheth's exhibition is just an anecdote on the purpose of yesteryear's studio portraits. These portraits were a lower middle class' fancy to get themselves forever imprinted, a family's abundance of memory and tradition. Delhi's Photoink Gallery is playing host to this exhibition, which has displayed 65 photos reverberating with habits of a bygone era.
Her collection boasts of the naivety of Indian photo studios and its practices. For instance, the bright and colourful backgrounds- stretching from sand dunes to snowfalls, garish lights and a small corner with an impoverished mirror for impromptu makeup. To some extent, these photo studios were the only accessible avenue opening to the poor Indian's dream of wonderlust.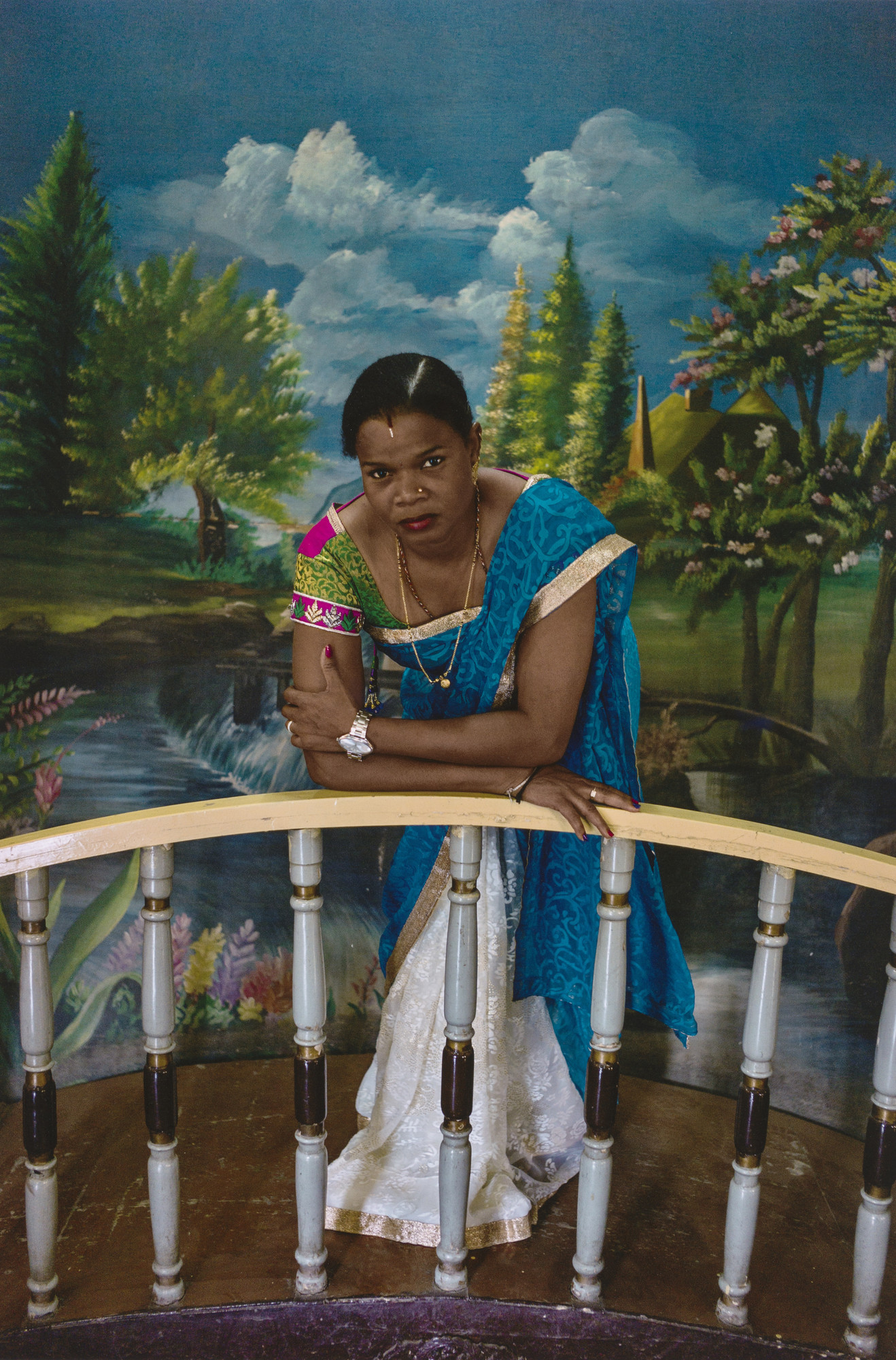 Nostalgia emanates from these old studio props that once heralded the making of a great photo. Imagine stuff like outdated light stands, a ubiquitous black coat hanging, and a box camera, vacant stool, things fallen out of use, now find expression in her display.
In her interviews, she confesses of having visited eight states which have witnessed the slow decline of photo studios, withered away from their stature of eloquence. Sheth has recorded mainly three years, 2015 to 2018, and through her photos, she delineates a silent screech that first insinuated her in starting this project.
A Voyage Into Yesterday
When on one hand, Ketaki Sheth's work harp on the elaborate settings, on the other hand, the quaint Indian emotion for photography, and their changing relationship with the camera is exposed. The most distinct picture is where a cardboard portrait of Mohandas Karamchand Gandhi is kept, in a posture reinforcing our inherited knowledge of the Mahatma. It is a picture of gloom and desolation as the props stare back, silently waiting for the final decay.
One needs to grasp each of the narratives that these photos have to serve, as well as to let the floods of memories gushing in, internalizing these photos in leisure. For the purpose of recollection in tranquillity, the gallery has also placed chairs in front of the photos for the audience.
The exhibition has the qualities of a fictional work, interweaving and juxtaposing different lives through bright hues, lives once strongly relied upon former ways of photography, images taking flight with the aid of viewers' imagination.
A Photo Studio For Fond Remembrance
Photo Studio remains a wonderful ode to the spirit of photo-making pushing aside advent of selfies in pop culture, acquired through the generosity of smartphones, owing to which these bright and dreamlike photo studios have become anachronistic over the decades.
There are other luminaries who also have carefully borne witness to the death of photo studio and researched in this sphere, consider Christopher Pinney. Along with these critically acclaimed works, Sheth's Photo Studio would provoke a remembrance of antique India, a record for generations to come, being a work of high artistic merit.