Hardik Patel Hunger Strike Enters The Eleventh Day
Hardik Patel spearheading the fight for Patidar reservations has entered the eleventh day of his hunger strike. His demands have extended to include the waiver of farmer loans.
The BJP government in Gujarat is yet to intervene in this matter, but this young man has been able to capture HD Deva Gowda, our former prime minister's attention. Gowda wrote a letter to PM Modi requesting him to intervene and deemed Patel's struggle to be a matter of grave concern.  "I learnt from media reports that youth leader Hardik's health condition is deteriorating by the day. It is also reported that he has prepared his will, which is a matter of serious concern. I request you to intervene in the matter immediately," wrote Gowda. He also cited the example of a similar incident involving the Jats in Rajasthan that took place during his prime ministerial tenure. He asked Modi to set up a commission which would look into the issue of Patidars in Gujarat. Gowda also wrote words of encouragement to Hardik Patel and appreciated his efforts.
Hardik's fast has been openly supported by many leaders of the opposition like Delhi Chief Minister Arvind Kejriwal of AAP and former Uttar Pradesh Chief Minister and president of the Samajwadi Party, Akhilesh Yadav. Many seasoned politicians of various political parties like TMC, NCP, RJD etc have met Hardik at his residence in Ahmedabad, which is also the spot for his fast. Gohil, the spokesperson of NCP criticised the Modi – government heavily for not intervening in this issue.  
He said, "Hardik is fighting for farmers. His fight is for the betterment of Gujarat and its people. It is very unfortunate that the State Government is not even ready to talk to him. I urge the Government to establish a dialogue with Hardik and try to make him end his fast as soon as possible. "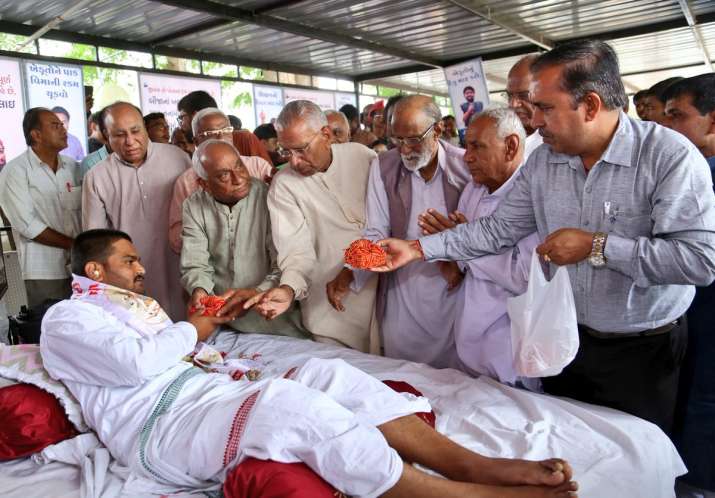 The huge deployment of police personnel outside Hardik's house has been heavily criticised. Refusing to budge from his stand, Hardik said that he won't let the doctors conduct a medical check up on him if police do not stop harassing people visiting his residence.  He has even penned down his will in which he has divided all his belongings and property among his parents, sisters, the 14 youth killed in the quota agitation in 2015 and a shelter for old and ill cows near his village.
Hardik had launched his hunger on the third anniversary of the quota struggle on 25th August 2015, that turned violent and killed 14 people. He is demanding a loan waiver for farmers and quota for Patidars in government jobs and education under the Other Backward Classes category. The people of Gujarat especially those of the Patidar community are waiting with bated breath to see how the BJP Government reacts to Hardik's demands.