Caste Based Subjugation
In a shocking case of inhumanity, three minor Dalit boys were allegedly stripped, beaten and paraded nude in Vakadi village, in Maharashtra's Jalgaon district. The minors were beaten for swimming in a village well, belonging to Joshi, an upper caste man.
The incident occurred last Sunday (June 10) but came to light only after the videos of the boys went viral.
Dilip Kamble, Maharashtra's Minister For Social Justice, told media personnel that the two persons have been arrested. Identified as Ishwar Joshi and Prahlad Lohar, the accused were sent to judicial remand by a local court on 11 June.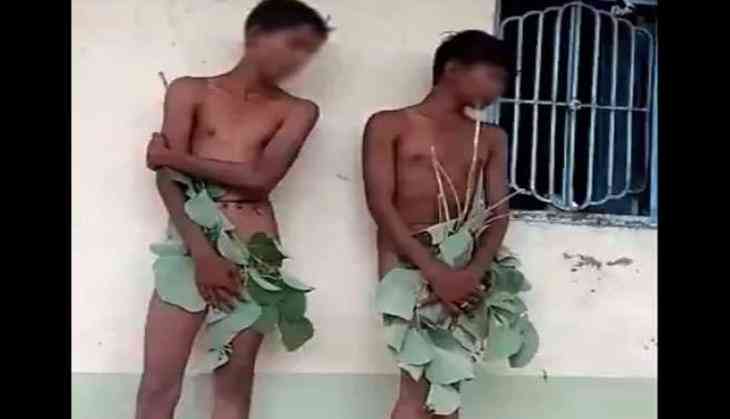 Keshav Pathond, Sub-Divisional Police Officer (SDPO), told PTI that on the basis of a complaint registered by the father of one of the victims, Joshi and Lohar were booked under Sections 323, 504, and 506 of the IPC.
They were also booked under the Atrocity Act, Protection of Children from Sexual Offences Act (POCSO) and section 67 (B) of the Information and Technology Act.
The boys and their families now face intense pressure from influential villagers to take back their complaint.
Ramdas Athawale, Union Social Welfare Minister, condemned the incident and demanded "stringent action against the perpetrators".
Reportedly, on last Sunday, the three boys, aged around 12-14, jumped into the village well to cool themselves down. However, some locals learnt of the incident and a large number of people gathered near the well and forcefully pulled them out. The boys were abused and shouted at, after which some people allegedly forced the boys to strip and paraded them around the village.
Maharashtra: Minor dalit boys stripped and beaten for taking bath from public well in Jalgaon
In the video, the boys can be seen wearing only sandals and some leaves. A person can be seen whipping them on the legs and back with sticks and what appeared to be a leather belt.
Dalit leaders as well as politicians from the opposition and ruling party, including Gujarat Dalit leader Jignesh Mewani, condemned the incident.
Stern steps and action were promised by Maharashtra Minister Chandrakant Patil, to ensure that such acts were not repeated in future.
Also, Congress President Rahul Gandhi condemned the incident, saying "taking bath" was the boys' only "fault." He also added that history would not forgive people if they do not question the BJP government and the Rashtriya RSS.
महाराष्ट्र के इन दलित बच्चों का अपराध सिर्फ इतना था कि ये एक "सवर्ण" कुएं में नहा रहे थे।

आज मानवता भी आखरी तिनकों के सहारे अपनी अस्मिता बचाने का प्रयास कर रही है।

RSS/BJP की मनुवाद की नफरत की जहरीली राजनीति खिलाफ हमने अगर आवाज़ नहीं उठाई तो इतिहास हमें कभी माफ नहीं करेगा pic.twitter.com/STeBSkI1q1

— Rahul Gandhi (@RahulGandhi) June 15, 2018
This incident underlined the ugly oppression that members of the 'lower' community still face in India.