The Industry Might Not Be Far Away From #Metoo, Yet Definitely Off The Pace
Early in the year veteran actor Jeetendra was booked for an alleged sexual assault, or much before that Kangana Ranaut had named a few for sexually preying on her during her initial stages in the industry. There was a faint hope that perhaps Bollywood has woken up to the clarion call of #Metoo movement. Many had circled her out for playing the victim card, channelizing her past humiliation through fury to fetch attention. The accusations, however, reached a peak when she blatantly professed her inclination towards a certain political organization. And now, Tanushree Dutta is the new face of (fading) hope.
It is extremely sickening that #Metoo in Bollywood has blossomed and thrived in the form of whispered gossips, WhatsApp chats, hushed allusions, passing references, and most importantly, silence. While nepotism is one of the factors that has added insult to the injury, willingness to submit to rampant puppeteering that goes on in the industry is no less severe. We can all rejoice and dance to the glories of Page 3, Fashion, Dirty Picture, or Pink. But, when it comes to breaking free from the vicious circle of stardom and Bolly's patricentric attitude, we linger behind.
Dutta Breaks The Barrier
Tanushree Dutta's narrative is a pronouncement on the seedy networking that functions from under the rugs. In her confession, Dutta mentioned that the accused, Nana Patekar had called thugs on her.
If you are following the news, you would know Amitabh Bachchan has simply refused to comment by virtue of his individuality while another veteran actor, Shakti Kapoor had stepped back from speaking since at the time of the incident he was just a "kid".
Bolly's Habit Of Silencing The Victim
Dutta's account so far has been both validated by some and discarded by others, swallowed indifferently by the rest. Anger is considered to be a nemesis for a woman and in Bollywood, everything needs to be done tactfully and through powerful connections. A single voice in Bollywood needs to be backed up by other powerful voices, rest it drifts away to ambiguity.
Here in lies the problem, it is in this way a black hole is created, always ready to suck into its massive nothingness, every single detail and account of survivors, putting a lid over the amplified voices. Against every allegation against an actor, an actor of any or no merit, there is a counter-accusation diluting this voice that chose to reprimand.
Earlier on, Jeetendra's lawyer scrapped the accusations made by the victim as "baseless and ridiculous" and ever since then any form of opposition or dissent against the actor has subsided. Bollywood has again shown that one can never march in a battlefield against a man who is revered by his peers, be it due to his age, family history, heteropatriarchal family.
The concept of an approving and humble woman genuflecting in front of her male associates is the implicit mandate in Bolly. Accused would always be let go of, and their wrongdoings would either be justified as fleeting moments of male passion or the rants of an egocentric, and attention-seeking woman. Surya Kant in Bollywood are not just products of fame and money, they are the handiwork of a group of people who have normalized rape and machismo as part of the industry.
Dutta And Rai, Then And Now- What Has Changed?
Machismo bordering on offence has always made to the news primarily because it aligns well enough to the pre-existing microcosm of Bollywood. Decades ago, before the dawn of #Metoo in the west, Aishwarya Rai had accused Salman Khan of stalking and harassing her.
Newspapers ran columns citing 'men will be men', Salman's silence adding up to the conjecture that one cannot expect a burly 20 something to accept defeat from his ladylove.  Where Bollywood has failed repeatedly is the capability to show solidarity to speak against the wrong, to debase the established hierarchy; even if you are not facing the injustice, somebody else is.
We have seen the formation of comradeship coming from various sections during the #Metoo movement last year; victims sharing their own stories of transgressions by their peers. Unfortunately, enough Dutta's account has been turned into a myth. This intentional diversion by many well-known faces, public preachers of "consent", is the reason why Bollywood is light-years away from embracing #Metoo.
The movement has always been lurking around, even before it received international recognition and paparazzi. Victims have been gaslighted, their narratives repeatedly questioned, distorted, and even denied the existence or the survivors' right to speak about their experience.
Future Of Bolly's #Metoo
Albeit many actors like Farhan Akhtar, Swara Bhaskar and Sonam Kapoor Ahuja have publicly announced their faith in Tanushree's account, the majority have chosen to keep mum about it. Where is Anirudhha Roy Chowdhury or Madhur Bhandarkar, people once known for their forthright portrayal of perversion on celluloid? This lack of solidarity is destructive to the basic framework of the movement which seeks to provide courage to the other victims of sexual assault.
Unlike in the West, Bollywood relies on family connections and influences, an entire industry thus shunning itself of all faculties needed to give a victim the right to speak of their trauma. No matter how little in dimension or how much time has elapsed since the incident, the fact that survivors (irrespective of false ideologies working in Bollywood) are speaking up holding onto their stances is a success in itself. One cannot solely diminish the magnitude of an assault or an injury to modesty simply because it dates back to years, or is not recent enough to stir the readers' fancy.
Stop Gaslighting The victims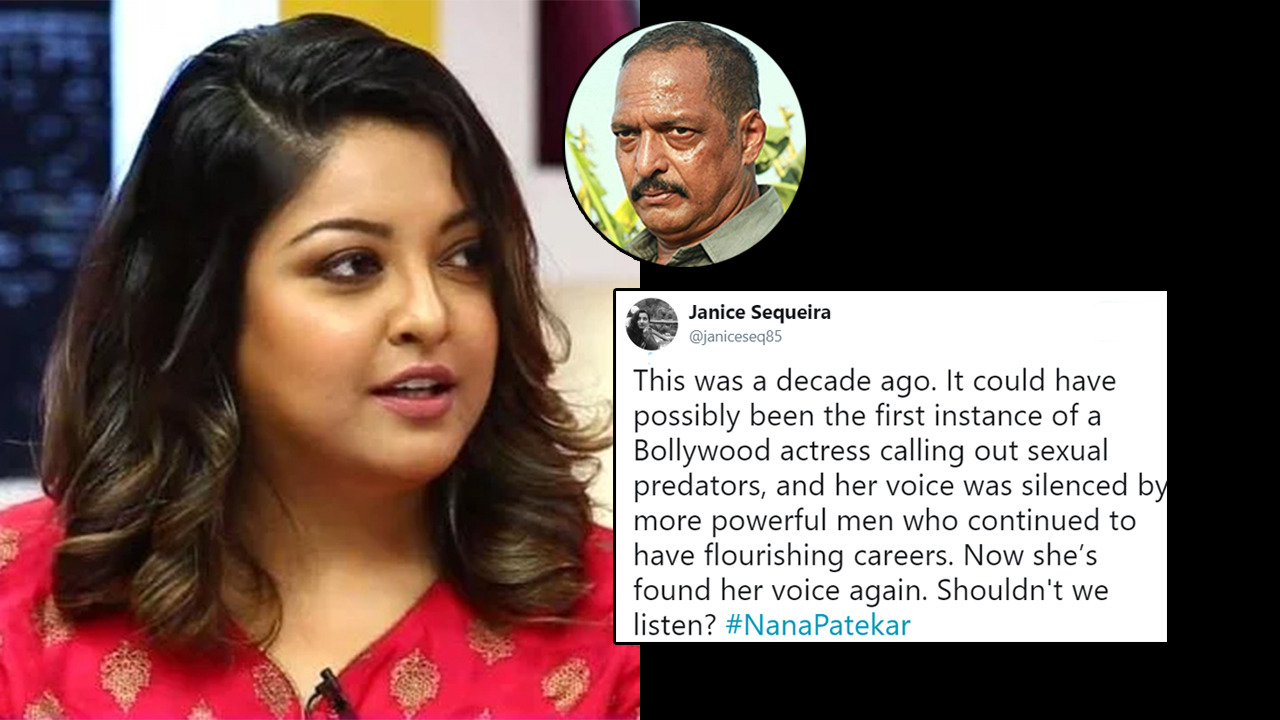 To end on a positive note, it would not be irrelevant to say that Bollywood has seen worse days of victim shaming and notoriety, media glorifying such acts and making entertainment and gossip columns out of it. In the age of Twitter and hashtags, where building an alliance or taking sides is easy, we should be proud that at least a few numbers of Dutta's peers and seniors have come forward to speak against it. This might be the calm before the storm, but has a long way to go before it gains impetus.