The Ethereal Combination Of Age Old Mythologies And The Rustic Tones
A lady of 61, equipped with simply nothing but a tambura, Teejan Bai has placed the Pandavani folk art music on the global map through her ethereal performances. Pandavani or the Ballad of Pandavas is the folk music of Chhattisgarh that retells the stories of the Mahabharata in the form of a ballad song.
Teejan Bai, in her Pandavani style, combines these stories of the Indian epic and the rustic tones of her voice in so eloquent a manner, that her charismatic performance brings the age-old epic to life. Recently, Teejan Bai has been honoured with one of Japan's most prestigious awards, the Fukuoka Arts and Culture Prize for the year of 2018.
Teejan Bai's journey from Chhattisgarh to Japan though has brought her immense fame, yet in walking through the path of music towards glory, she has not lost an inch of her modesty or her simplicity. She remains grounded, flourishing with humility and incredible talent.
The Humble History Of A Country Girl's Rise To Fame
Teejan Bai embodies the rustic charm of her sensuous performances in such simple manner as if it comes naturally to her. Her performances, perhaps what is the country's most aesthetic form of folk art have not only been appreciated and rewarded within the nation but, have been lauded by the foreign crowds as well. Her captivating concerts have impressed huge hordes of people all over the world including the USSR, Britain, Italy, Germany, Switzerland, France, and of course Japan.
However, her life has not just been a merry song. She has had to pay her dues sometimes even too heavily to get where she is today. Teejan was the eldest child in a family of seven including her parents, Sukhwati and Chunuk Lal Pardhi.
Living in a village named Ganiyari in Chattisgarh, poverty drove the family to a point where they could barely manage to have a day's meal. In fact, a roof to save the head seemed like a luxury to them and hence, a roadside hovel became the place where Teejan grew up.
In such conditions where one can barely find any reason to live amidst all the suffering, Teejan Bai found her inspiration in her grandfather from her mother's side, who happened to be a Pandavani artist and the family's main source of income.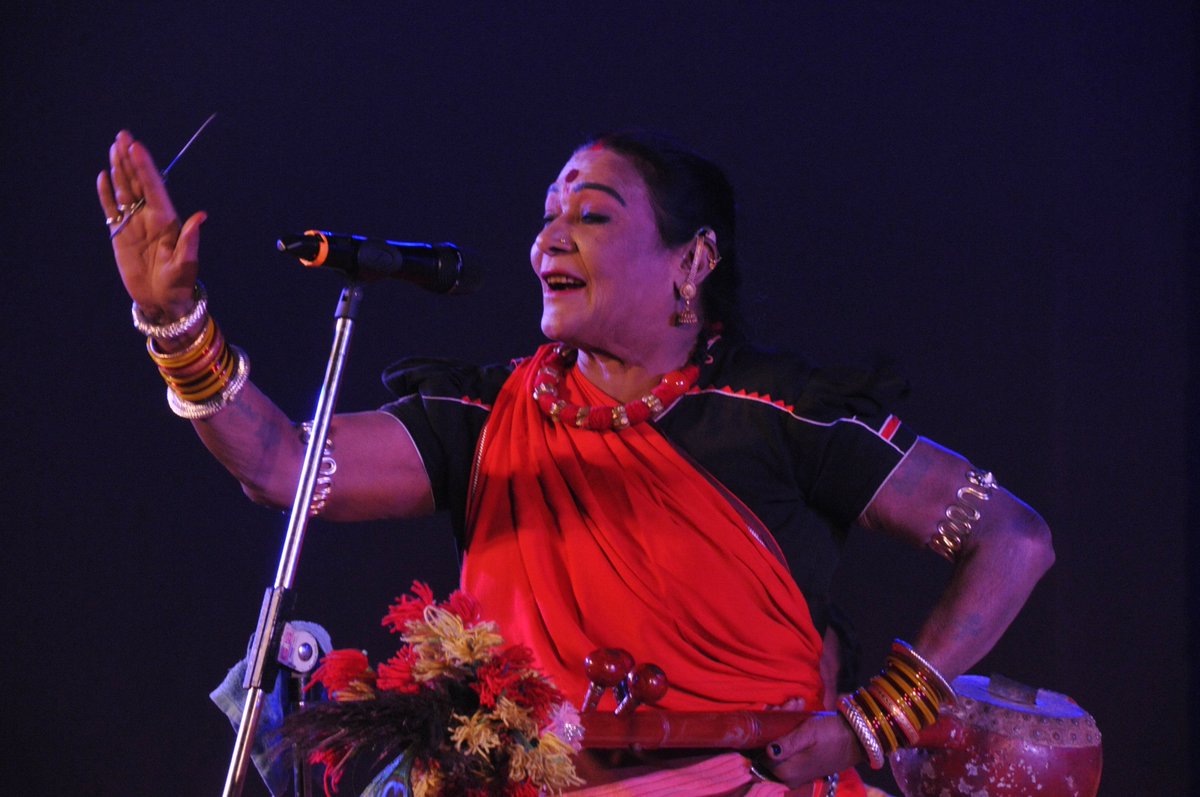 Remembering her grandfather, Teejan had once revealed, "I learnt the art from my Nanaji (grandfather) while he did his rehearsals. He never taught directly. Girls were never allowed to think about performing, let alone learn it. Even he did not come to know that I had become his silent disciple till he once caught me at his door."
The Show Must Go On
Married off at 12 and after a first marriage that ended in abuse, Teejan Bai kept herself busy with the Pandavani folk art under the supervision of her grandfather, much against the family's wishes.
Commenting on the free spirit of the Pandavani art, Teejan explains, "I chose the Kapalik style of Pandavani, where the narrator depicts scenes from the epic and improvises. This gave me more freedom to think, to enact the dramatic elements, to be fearless and to make the story mine."
However, Teejan's freedom of performance was not an easy gain. She was looked down upon by the village communities corresponding to her bold and stubborn choices of lifestyle.
Throwing light upon this difficult phase of her life, Teejan reminisces, "I would be insulted every time I left my village with the tambura. I tried to convince them that I am going to sing stories of Mahabharata. They would taunt me saying 'Yeh anpad gawaar ladki phir se kahaan jaa rahi hain, dekho! Isko kisne bulaaya kahani sunaane? (Where is this illiterate girl heading again, look! Who has called her to narrate stories?)'.
But what is a little hurdle to the feisty spirit of Teejan! She never let her persistence waver and remained focused on her target. Soon enough, she performed her first show on a temporary stage in a village named Chandrakhuri of the Durg District. The news of her performance spread like wildfire and it was just a matter of time before Teejan began studying the art under Umed Singh Deshmukh.
By this time, Teejan had not only mastered the folk art of Pandavani but, had also created a genre of her own. Teejan's performance struck a chord with Habib Tanvir, who was probably the biggest asset of Indian theatre at the time. Tanvir, impressed by Teejan's rustic bold performances started to advocate her to various large-scale festivals and this came as the break that Teejan had always hoped.
Soon, Teejan Bai found herself putting up a show for the Indian Prime Minister and other eminent personalities and was crowned as the first female Pandavani proponent of the world.
The bold heart of Teejan Bai speaks out undefeated when she says, "I could never forget the difficult path that I have left behind. Indian women have this amazing ability to tolerate things, keep the pain in their hearts and continue doing what they are supposed to do. I did exactly that."
The Spiritual Conscience Of Teejan Bai's Art
Teejan Bai's versatile art cannot be separated from her spiritual self. As she takes her tambura in her hand and plucks on its strings to mesmerize and enchant the audience before her, she connects her art with her spiritual self. While some would agree that it is inherently in keeping with the subject matter of her music, Teejan Bai believes it as the power of destiny.
Evidently, her spiritual conscience is visible not just in her art but in her talks as well –"The tambura has always been a part of my life. As a child, I would see this in my dreams and I didn't know or understand what that signified. A kind village elder told me that would be my destiny. I believe it is an avatar of three different gods I worship and always think of."
Teejan Bai's art brings every character to life with such ease, that even the greatest of professional theatre artists would find it difficult to embody that natural charisma in their performances. Teejan Bai not only narrates the stories and the characters of her performances, but she also lives them.
She makes this very apparent when she says, "I have lived with them (characters) all my life. They are all real and in me. What else do I have other than this one story to tell? I own them. They speak to me and I tell you all the stories. I feel I am possessed by them and they are asking me to tell you their stories so you don't forget them too."
An Embodiment Of The Art Itself
As is true of her art, it is not just her music that remains entangled with Teejan's every breath that she takes.
For Teejan, her orchestra is a part of her very being. Her troupe is her family –"We all live together. They all have internalized the story too. Our best practice is when we are on stage. From my lip movements and the quivering of my cheeks, they can make out what I am singing. Moreover, the experience is the best tool for a performer. They know when to pause when to comment, when to sing and when to respond."

When asked in an interview, which of the characters of the Mahabharata does she identify herself the most with, Teejan Bai replied, "Bhim, I love the character of Bhim. Few people understand his character. He goes through so much in the story but we know very little because he is not the central hero. Moreover, I have got a lot of appreciation for doing his role being a woman. Once in Paris, the audience kept asking me to do the same thing again and again there was endless applause."
We may not pay much attention to Bhim, but it needless to say that Teejan Bai has not only attracted our attention but has won our hearts with the immense dedication that she exemplifies towards her musical art. In fact, it is amazing how a woman has been capable of single-handedly spreading the Pandavani folk culture not just within the nation but around the world.
A contribution of such a stature not only crowned her victorious at various international awards shows but won her the most prestigious award an Indian can receive. Teejan Bai was awarded the Padmashree in the year 1988 and in 2003, she received the Padma Bhushan.
Teejan Bai has given a voice not only to the epic characters of the Mahabharata but also to all those girls tied down by the shackles of the patriarchy, who are too afraid to chase their dreams.