India Marginalizes Its Women – Age, Background, Caste Doesn't Matter To Anyone
A few years after India got independence, it was declared to be a democratic country. A wonderful fact about the Indian democracy is that India is one of that handful of countries where women received the right to vote at the same point as men. At least on paper. Whether or not the women were actually allowed to exercise their democratic right is a whole new debate altogether. So, Indian women – just like its men – have the freedom of speech, expression, religion and equality.
But, do we really exercise the necessary rights to equality and expression? While we understand that "common" Indian women have been subjugated since ages to adhere to the frivolities of the men – to enslave themselves to the whims and fancies of patriarchy – do you realize that women having a strong family and financial background often are subjugated by the men? Or, at least, that is the tendency!
Ahead of 2019 Mahabharat, Priyanka Gandhi Vadra attacks PM Modi | The Newshour Debate (12th March)
A common case in point – and our focus of discussion – is Priyanka Gandhi and her choice (rather right) of dresses. If you are an Indian citizen, you are well aware of how carefully our politicians tend to dress. Always seen in crisp cotton dhoti/kurta, or bandhgala or safari suits (at most), the variety of clothes that one is expected to wear as an Indian politician is extremely limited – more so for a woman politician, who is always expected to be in crisp cotton or linen sarees or at best salwar kameez. The colour palette also is pre-decided: the best is white but colours in and around the pastel family are also allowed, the exception being – well – saffron. The only person to somehow blur out these unwritten "dress code" in modern times is Priyanka Gandhi Vadra. But was she spared from being criticized? Of course, NO!
Priyanka Gandhi Vadra And Her Choice Of Clothes
Like any other professional women of this age, Priyanka Gandhi Vadra seems as comfortable in her basic jeans and tee as she seems in her crisp cotton sarees. A newly-appointed member of the Indian National Congress, Priyanka Gandhi is mostly seen venturing across the country on electoral campaigns (as she was a few months ago appointed as the General Secretary of Indian National Congress) in sarees. However, as a person entitled to a personal space, she is often seen in western outfits, which should have been treated as normal at least in this country where business tycoons "hire" western singers to perform at their typically desi weddings.
Needless to say, her choice of outfits has started featuring more in the news than her work. The politicians from the opposition parties are seen throwing slangs at her for wearing her choice. In fact, in one of the pre-election meetings, BJP MP from Basti – Harish Dwivedi – blatantly used her choice of clothes as a trope to lure innocent villagers to vote for Congress. According to him, Priyanka has a separate closet for Delhi and for UP.
Now, while we are not intending to debate on whether or not she has separate closets, what we really want to put out here is the fact is that if a person of her stature is publicly shamed for choosing to go against the protocol and wear her heart, what will happen to the common women, who are toiling exceptionally hard to make their mark feel in the world of adversities? Will wearing a saree make a better politician out of her?
If that is the case, then India would have been the largest power in the world by now, we would have to refer to the dictionary to understand the meaning to "corruption", and of course, we would not have been so tolerant towards the crimes against women. But, here we are – instead of doing what is right, we are trying to find flaws in the other person – and through as base a thing as her choice of clothes.
Priyanka Gandhi Is In A Position To Reply – But Are We
In a country like India, where politicians often come with a list of criminal offences in their curriculum vitae, is it always feasible to retort to a snare? We congratulate Priyanka, who could change her official Twitter account image to one wearing western outfits. But are all of us in a position to brush off a rebuke so easily? I am afraid, most of us are not. We crib inside our little cocoon whenever we face sexual taunts, jibes or harassment despite #MeToo movement becoming a thing now. This is because we are afraid. Afraid, not of the legal hassles, but afraid of our lives.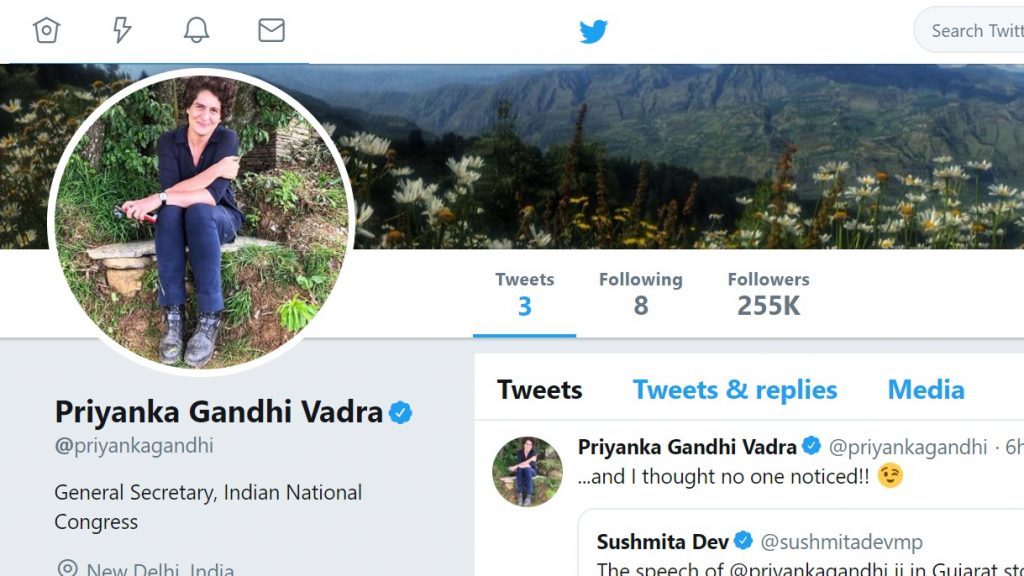 It is definitely high time that we, the youth of India, call out this hypocrisy surrounding women and their choice of clothing. After all, being Indian citizens, we are all aware of the fact that clothes have nothing to do with sexual harassment – otherwise, newborn children would never get raped in our country. On a different note, it may also be pointed out that not all male politicians adhere to this unwritten dress code of Indian polity. Politicians such as Arvind Kejriwal are seldom seen wearing the khadi outfits, yet no one has visibly snared at them.
So, why this discrepancy? Why are we targeting Priyanka Gandhi for choosing to wear her mind? Just because she is a lady? Don't you think that it is high time we respect people's choices and let their actions speak? Whether or not Priyanka Gandhi Vadra will emerge as the next political might of India will be decided by time – but, as of now, we are quite proud of the way she is carrying herself on social media, especially on Twitter – where she identifies herself as just another woman wearing her mind, rather than being a bossy politician. Is she the harbinger of a new wave in Indian Politics? Let time decide!