A Timeline Of Events – The BJP Effect
17th March- A bike rally was organized in Bhagalpur in the event of the Hindu New Year. Violent clashes were reported between members of two communities. BJP leader Arjit Shashwat who is also the son of Union Minister Ashwini Choubey was booked for inciting violence along with 8 other accused. After absconding for many days Arjit finally surrendered on 1st April and was sent into judicial custody for 14 days.
25th March- Stones were allegedly pelted on a Ramnavami Juloos in Aurangabad. Section 144 was immediately implemented, while the Police were forced to use physical force in order to control the situation. 150 people were arrested in relation to this case.
27th March- Multiple incidents of arson and stone pelting were reported in Samastipur on the event of Chaiti Durga Puja. 57 people were arrested which includes 2 local BJP leaders.
28th March- Communal tensions erupted in Nalanda and Munger district. 24 people were injured in the violence which ensued. Several security personnel were also injured. 50 people have been arrested so far.
30th March- Large-scale destruction of public property was reported in Nawada district. Many vehicles were burnt up and Patna- Ranchi Highway was blocked. The police had to open fire in the air in order to disperse the crowd.
Pakistan Murdabad, Provocative Songs And Gestures As A Tool To Incite Violence
PM Narendra Modi rode on the discontent against Congress coupled with its agenda of 'Hindutva' and 'Vikaas' in order to score a massive victory in 2014 general elections. There was an increase in communal violence all over the country just before the 2014 elections, with 72 incidents being reported in UP alone. It has become a tried and tested formula for the BJP/RSS in order to score a victory in the subsequent elections. The series of communal violence being reported in Bihar is a part of the Sangh's plan to polarize the nation on communal lines. All the incidents of communal violence reported in Bihar followed the same modus operandi, with the Hindutva groups chanting slogans of 'Pakistan Murdabaad" and playing provocative songs on DJ, when entering areas with a substantial Muslim population. This is done in order to alienate them and brand them as foreigners in their very own country. The songs played on DJ often carries provocative lyrics which target the religious beliefs of the minority communities. The lyrics of few such songs being-
"Jo murdo ko nahi jala paate wo zindon ko kya jalaenge"( Those who don't burn their dead cant burn us, mortals)
"Jo humaare desh me Ram ka nahi, wo humare kisi kaam ka nahi"(Those who don't believe in Shri Ram in this country are of no use to us)
"Jo chhuega Hinduon ki hasti ko,mitaa dalenge uski har ek basti ko "( whoever dares to touch Hinduism we will destroy all their settlements)
It can be clearly seen in the above-mentioned songs that they are highly provocative and directly target the minority communities. The administration has clearly failed to control these processions. On the contrary, a few policemen were seen joining these Juloos while on duty. The mosques which come in the way of these processions are the favourite targets of these anti-social elements, who went as far as to hoisting saffron flags and chanting slogans of 'Jai Shree Ram' inside these mosques.
The Need To Remember The Basic Tenets Of Our Constitution
 India gained independence from British rule in 1947 after sacrifices of scores of committed freedom fighters who dreamt of an independent and socially inclusive India. This was well reflected in the constitution of India, which is the supreme law of India. The Preamble of our constitution states 'We the people of India, having solemnly resolved to constitute India into a Sovereign Socialist Secular Democratic Republic. It also talks about securing the liberty of thought, expression, belief, faith and worship. 'To promote harmony and the spirit of common brotherhood amongst all the people of India transcending religious, linguistic and regional or sectional diversities' is listed as one of the fundamental duties of every citizen of India.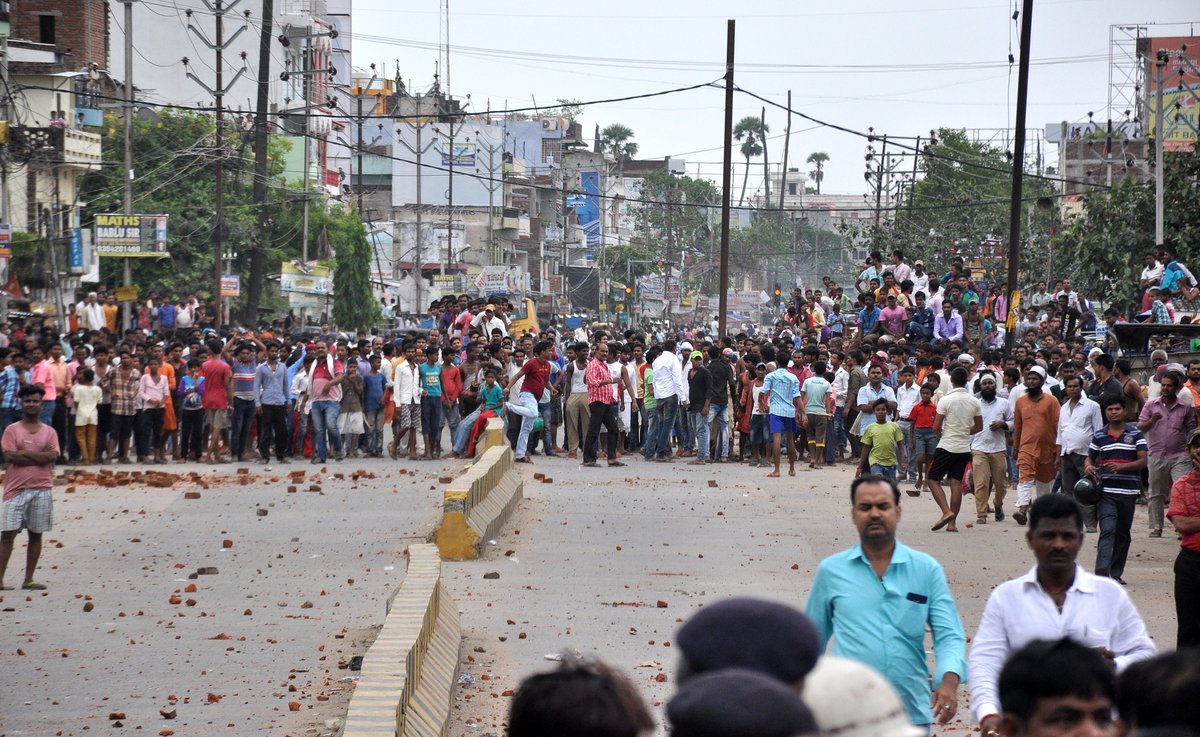 The past 4 years of BJP rule has spiralled India into a web of violent clashes and lawlessness in the name of safeguarding religion. This is very much similar to the Nazi propaganda which created an imaginary enemy in Jews, which eventually led to the holocaust and World War 2.
Anyone who dares to question the policies of BJP is branded as an anti-national and are asked to leave for Pakistan. Ironically, it's the RSS led BJP which seems to be inspired by Pakistan, which is a failed state owing to its obsessiveness with religion. India is set to be another Pakistan in the making if the progressive-minded, independence-loving Indian citizens don't actively intervene and restore normalcy immediately in the country.